Our Massage Therapists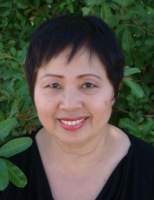 Supee Spindler is a licensed massage therapist and facial specialist who was born in Chiang Mai, Thailand where Thai Massage has been practiced in almost every family. Therefore, she has experienced Thai Massage since she was born.
She was trained in massage and aesthetics in Thailand, Hong Kong, Japan and Singapore. She had her own massage and skin care business in Bangkok, Thailand for 18 years before she came to the United States. She received her Associates of Sciences Degree in Massage from Keiser University and Diploma in Facial Specialist from Alpha Institute. Both schools are in Port St. Lucie, Florida.
Supee firmly believes that massage is a special art; whosoever does a massage has to do it with love and care. Whenever she massages her client, she does so wholeheartedly in order to be the most effective for the client.
If you are looking for a professional quality massage, please call us. You will never be disappointed.